STRENGTHENING INDEPENDENT LIVING
by and for People with Disabilities
Centers for Independent Living (CILs) are community-based, non-profit organizations, governed and staffed by people with disabilities, offering a wide variety of services to people with disabilities and their families. The foundation of these services is the peer-to-peer relationship, where people with disabilities act as mentors for other people with disabilities, showing them by example how to help themselves live more independently. Georgia has nine (9) CILs serving all ages and all disability groups and providing at least five fundamental services:
Information and Referral
Peer Support
Independent Living Skills Training
Advocacy
Transition Services (high school to adult life & from nursing facility to community)
Depending on the needs of the communities they serve, CILs may provide other services that vary from one center to another. To learn about each center, visit www.silcga.org
In FY 17, the CILs assisted 2069 individuals with their personal plan toward independence. Although these programs are small, they are very high impact:
Eighty – three percent (83%) of CIL consumers report greater independence as a result of their work with a CIL.
"I can read my own mail because the Center helped me get a magnifying screen."
"They helped me to work and save money."
"I moved out of a nursing facility and can now handle my personal care needs (bathing & dressing) with the right equipment."
Seventy – three per cent (73%) of CIL consumers learned to 'speak up for themselves'.
"I can now call transportation for myself to get to the doctor."
"When I want to take care of personal business, I can now handle it for myself without having to wait on my daughter."
"By writing and using sign language interpreter, I can ask for what I need without being afraid."
Fifty – five percent (55%) of CIL consumers report that the services received 'kept me out of a nursing facility or group home'.
"I can't see or hear too well, but the gadget to help me read meant I didn't have to go to the old folks home."
"I could not have stayed at home without the ramp the CIL helped me get."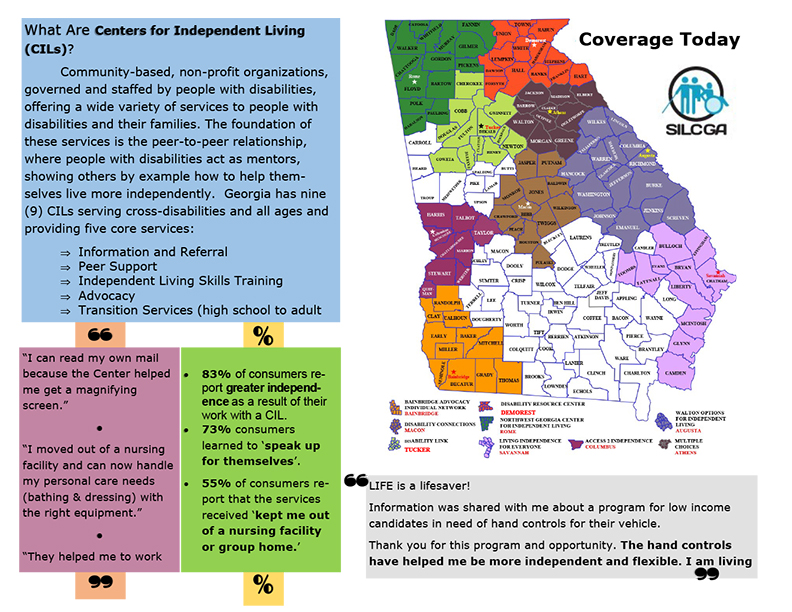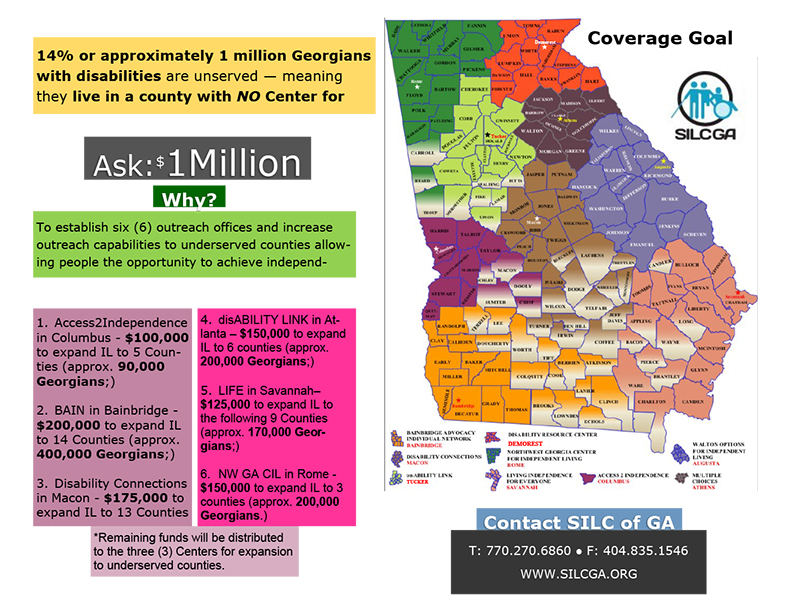 What is Needed?
The map above shows that not ALL Georgians have the benefit of these valuable organizations. Fourteen percent (14%) of Georgians with disabilities – are unserved meaning they live in a county with NO Center for Independent Living. The General Assembly's investment of $1,000,000 would establish six outreach offices and resources to expand outreach to underserved counties so that all of our state's people have the opportunity to achieve independence. Expanding outreach and itinerant services are essential for Georgia's current Centers for Independent Living to reach people with disabilities who live lives of isolation in our state's poorest and most rural counties.
Access2Independence in Columbus – $100,000 to expand in Independent Living in the following 5 Counties: Crisp, Dooly, Macon, Schley & Sumter. These counties are home to about 90,000 Georgians.
BAIN in Bainbridge – $200,000 to expand Independent Living in the following 14 Counties in South Georgia: Atkinson, Berrien, Brooks, Clinch, Colquitt, Cook, Dougherty, Echols, Lanier, Lee, Lowndes, Terrell, Tift & Worth. These counties are home to over 400,000 Georgians.
Disability Connections in Macon – $175,000 to expand Independent Living to 13 Counties in South Central Georgia: Ben Hill, Bleckley, Coffee, Dodge, Irwin, Jeff Davis, Laurens, Montgomery, Telfair, Treutlen, Turner, Wheeler & Wilcox. Over 250,000 Georgians live in these counties.
disABILITY LINK in Tucker – $150,000 to expand Independent Living to 6 counties to the south of Metro Atlanta: Butts, Lamar, Meriwether, Pike, Spalding & Upson. Nearly 200,000 Georgians live in these counties.
LIFE in Savannah – $125,000 to expand Independent Living in the following 9 Counties in Southeast Georgia: Appling, Bacon, Brantley, Candler, Charlton, Long, Pierce, Ware & Wayne. A little over 170,000 Georgians live in these counties.
NW GA CIL in Rome – $150,000 to expand Independent Living to three counties to the Southwest of Metro Atlanta: Carroll, Heard & Troup. Nearly 200,000 Georgians live in these 3 counties.
Disability Resource Center, Multiple Choices, Walton Options for Independent Living will receive the remaining $100,000 to expand their services to underserved counties.
Where is this issue in the budget?
Independent Living programs are administered by the Georgia Vocational Rehabilitation Agency which is administratively attached to the Department of Human Services.
FAQ Regarding Reinstatement of Funding for Home Modifications in DCA's Home Access Program
What is the Home Access Program?
It provides funding assistance to low-income individuals with disabling mobility impairments to retrofit their homes so that they can safely enter, use and exit their homes. Prior to the economic downturn in 2008, DCA directed $300,000 per year from the State Housing Trust Fund for The Home Access Program. On average, the Home Access Program invested $8,000 per person on services such as installing sturdy hand rails on porches, wheelchair ramps, wider bathroom doors, grab bars affixed in showers and around toilets.
What is the issue?
FY17, $224,902 was reinstated to the program. With that amount, DCA assisted 37 individuals. FY18, the Home Access funds were lessened to $100,000. With this amount, the modification selection process becomes that much more challenging:
| | |
| --- | --- |
| Access2Independence – Columbus | 23 |
| Bainbridge Advocacy Individual Network – Bainbridge | 19 |
| Disability Connections – Macon | 100 |
| Disability Resource Center – Gainesville | 9 |
| Living Independence for Everyone – Savannah | 131 |
| Multiple Choices – Athens | 0 |
| Walton Options for Independent Living – Augusta | 193 |
| disABILITY LINK – Atlanta | 132 |
| NW GA Center for Independent Living – Rome | 4 |
| TOTAL | 491 |
What is needed?
Annual new funds from DCA for the program is urgently needed. Considering that in 2006, the funding level for this program was $300,000, and costs and needs have increased every year, an infusion of $500,000 minimum per year is needed at this time. With DCA's historical average home modification costs of $8,000 per person, at least 62 people per year could receive this vital service.
Why is it needed?
The Centers have a long and successful history of utilizing community resources to provide these modifications to a small number of consumers. With the addition of state funding, the Centers will be able to increase the number of consumers served across the state with this vital service.
The longer people wait for such services, the more likely they are to risk injury from a fall, sometimes resulting in hospitalization or nursing facility placement. As the population ages, there are more and more requests for home modifications because of an increase in mobility impairments. The Home Access Program is a wise investment in the prevention of more costly services.
What are the advantages of permanent reinstating the funds?
With an appropriate modification to the existing home, many people are able to stay in (or return to) their own home after rehab, an accident, or other disabling event. This saves families and individuals considerable anguish and saves the State of Georgia considerable expense when nursing facility placement is avoided.