Who serves on the SILC?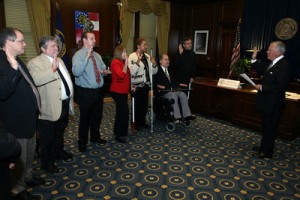 The Statewide Independent Living Council is composed of volunteers from across the state who represent a broad range of disabilities and backgrounds, and who are knowledgeable about centers for independent living and independent living services.
By federal law, a majority of the voting members must be persons with disabilities. Voting members may also include parents, advocates, and representatives from private business, organizations serving persons with disabilities, and CILs. Non-voting members represent state agencies that provide services to persons with disabilities.
Two voting members who must be included on the SILC by law are a CIL representative and a 121 Program representative.  The CIL rep is a director of a Center for Independent Living who is elected to the SILC by his/her peer CIL directors.  Section 121 programs (named for the section of the Rehabilitation Act in which they are discussed) are Vocational Rehabilitation programs serving Native Americans. Those states that have 121 programs must include a director or his/her representative on the SILC.
Becoming a Council Member
If you are interested in serving on the Statewide Independent Living Council, we invite you to first attend some of our quarterly meetings. You can also volunteer on one of our policy issue committees even if you're not yet a member of the Council. This gives you a chance to get to know the current Council members, get a feel for what it's like to work with the SILC, and make a contribution to the Independent Living movement right away.
Once you've become very familiar with Independent Living and you're ready to join the Council, you may contact the SILC office to request a nomination packet. When a vacancy occurs, the SILC Board reviews all nomination forms and votes on whether to approve each nomination. Because the SILC is a Governor-appointed council, approved nomination forms are then sent to the Governor's office along with the SILC's formal recommendation. The Governor then reviews all of the candidates and selects and appoints the new Council member.