webmaster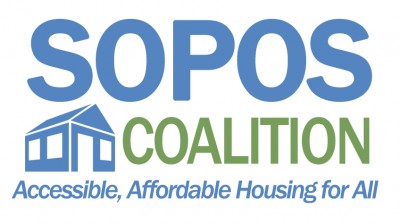 QUARTERLY NEWSLETTER
Spring 2017 Newsletter
Collaborative Review of DCA's Consolidated Plan for Housing and Community Development
In February and March, advocates from various housing, disability and mental health organizations worked together to review and comment on the State of Georgia's application to Housing and Urban Development (HUD) for federal funds. The Department of Community Affairs (DCA) prepared a new annual Action Plan that funds programs beginning in July 2017 for the new fiscal year. The Coalition will continue to monitor outcomes of these programs as well as funding levels that will be made available for a new 5 year cycle after the congressional budget process is finalized for next year. We are also keeping a close eye on the federal housing budget with updates from the National Low Income Housing Coalition. If your organization has expertise in this area, or interest in participating in the monitoring, please contact Marty Collier.
Local SOPOS Coalitions form to promote Affordable, Accessible and Inclusive Housing
Many housing decisions are made by local planning and zoning boards, as well as County Commissions and City Councils. Developers may be granted concessions in exchange for something the community wants, like more accessible designs or set-asides of units that are more affordable for students, senior citizens or people with disabilities. Spending priorities, applications for federal assistance and fair housing enforcement efforts are also shaped at the local level.   Some local jurisdictions do not even apply for federal funding because they don't want to have to comply with federal mandates! Local action is key to changing housing outcomes in our communities.
Knowing this has resulted in several local efforts to carry out the SOPOS agenda. Meetings occurred this quarter in Tucker and Columbus when local Centers for Independent Living teamed up with representatives of housing organizations and their City's Housing and Community Development people. This provided an opportunity to identify consumers who will serve as advocates for housing in their county. We provide coaching, encouragement and fact sheets on requested topics.
Advocacy builds for Inclusionary Zoning Programs
Inclusionary Zoning (IZ) is a concept that local governments use to require or encourage developers to include a certain number or percentage of housing units for low to moderate income households when they build. IZ is one strategy used to provide affordable housing for an area's workforce, to retain an area's longtime residents and to attract new residents to an area. We are working through local coalitions in the City of Atlanta and DeKalb County to establish Inclusionary Zoning Programs in those areas. Experience gained in this will be helpful to spreading the concept to other parts of the metro area and state.
SOPOS Coalition supports Housing Day at the Capitol
In coordination with Georgia ACT, Metro Fair Housing Services, Georgia Legal Aid Society and other organizations concerned about housing, we followed housing and community development issues that came before the Georgia Legislature and informed consumers of relevant issues. As a result of many groups' efforts, several important measures were adopted by the state legislature that we applaud:
The Statewide Independent Living Coalition (SILC) received a budget restoration to "Increase funds for the Statewide Independent Living Council of Georgia special housing home modifications; $100,000." This funding is greatly appreciated and will go to great use! Stay tuned for personal testimonies from those who will benefit from this funding.
HB 285 (Fair Valuation of Low Income Housing Tax Credit Properties) revises the criteria used to determine the fair market value of low income housing tax credit property. The bill provides specific guidance to tax assessors on how to value these properties, which bring in less income for investors than strictly market rate properties do. The bill provides that property with a low-income housing tax credit may only be compared to other low income housing properties for the purpose of determining fair market value.
HB 434 (Eminent Domain and Blight Amelioration) amends the eminent domain statute to allow a local government to seek the condemnation of property that is blighted, i.e., uninhabitable, unsafe or abandoned, an imminent harm to life or property, the site of repeated criminal activity, etc., and after demolition, to recommit the property to the same usage for five years. The bill outlines a process to petition the Superior Court to determine that the property is blighted and determine its current or last lawful use that will restrict future usage to that same purpose for five years.
New Foreclosure Prevention and Scam Avoidance Service for Seniors
The Georgia Senior Legal Hotline is a project of the Atlanta Legal Aid Society in partnership with the Georgia Division of Aging Services. See http://www.atlantalegalaid.org/georgia-senior-legal-hotline/ for complete details. The Hotline is a telephone service staffed by attorneys who take calls from Georgians from around the state, age 60 or over, on a variety of issues. Hotline attorneys give legal advice, brief service, and referrals to other attorneys or services where necessary. The Hotline's toll-free number is 1-888-257-9519. Calls go directly to the Hotline's confidential voicemail. Seniors should be prepared to leave a message including name, telephone number, and a good time of day a Hotline attorney can return the call.
*The SOPOS Coalition is a multi-disciplinary group that grew out of the 2011 publication of the SOPOS Report, "Shut Out, Priced Out and Segregated: The Need for Fair Housing for People with Disabilities." For additional information, or to get more involved, please contact the Coordinator, Marty Collier at 2mcollier@comcast.net or 404-936-9474.