Georgia Centers for Independent Living
To find the center that serves you, roll over the icons on the map closest to your county, or view the list below.
Many counties in Georgia are not yet served by a Center for Independent Living. If you live in an unserved area, please contact the Aging and Disability Resource Connection office near you for assistance.
Access 2 Independence
1315 Delauney Avenue
Suite 201
Columbus, GA 31901
Phone: 706-405-2393
TTY: call GA Relay 711
www.access2independence.com
Serves the following counties in West Central Georgia: Chattahoochee, Harris, Marion, Muskogee, Quitman, Stewart, Talbot, Taylor and Webster
BAIN (Bainbridge Advocacy Individual Network)
711 East Shotwell Street
P. O. Box 1674
Bainbridge, GA 39818
Phone: 229-246-0150
TTY: call GA Relay 711 or at 800-255-0135
FAX: 229-246-1715
www.baincil.org
Serves the following counties in Southwest Georgia: Baker, Calhoun, Clay, Decatur, Early, Grady, Miller, Mitchell, Randolph, Seminole, and Thomas.
Disability Connections
3695 Broadway
Macon, GA 31206
Voice: 478-741-1425
Toll Free TTY/Voice: 800-743-2117
FAX: 478-755-1571
Serves the following counties in Central Georgia: Baldwin, Bibb, Crawford, Houston, Jasper, Jones, Monroe, Peach, Pulaski, Putnam, Twiggs and Wilkinson.
Disability Resource Center
170 Scoggins Drive
Demorest, GA 30535
Voice 706-778-5355
TTY: call GA Relay 711 or at 800-255-0135
www.disabilityresourcecenter.org
Serves the following counties in North Georgia: Banks, Dawson, Forsyth, Franklin, Habersham, Hall, Hart, Lumpkin, Rabun, Stephens, Towns, Union, and White
disABILITY Link
1901 Montreal Rd
Suite 102
Tucker, GA 30084
Voice (404) 687-8890
TTY (404) 687-9175
Toll Free Voice/TTY (800)239-2507
FAX: 404-687-8298
http://www.disabilitylink.org
Serves the following counties in Metro Atlanta: Cherokee, Clayton, Cobb, Coweta, DeKalb, Douglas, Fayette, Fulton, Gwinnett, Henry, Newton, and Rockdale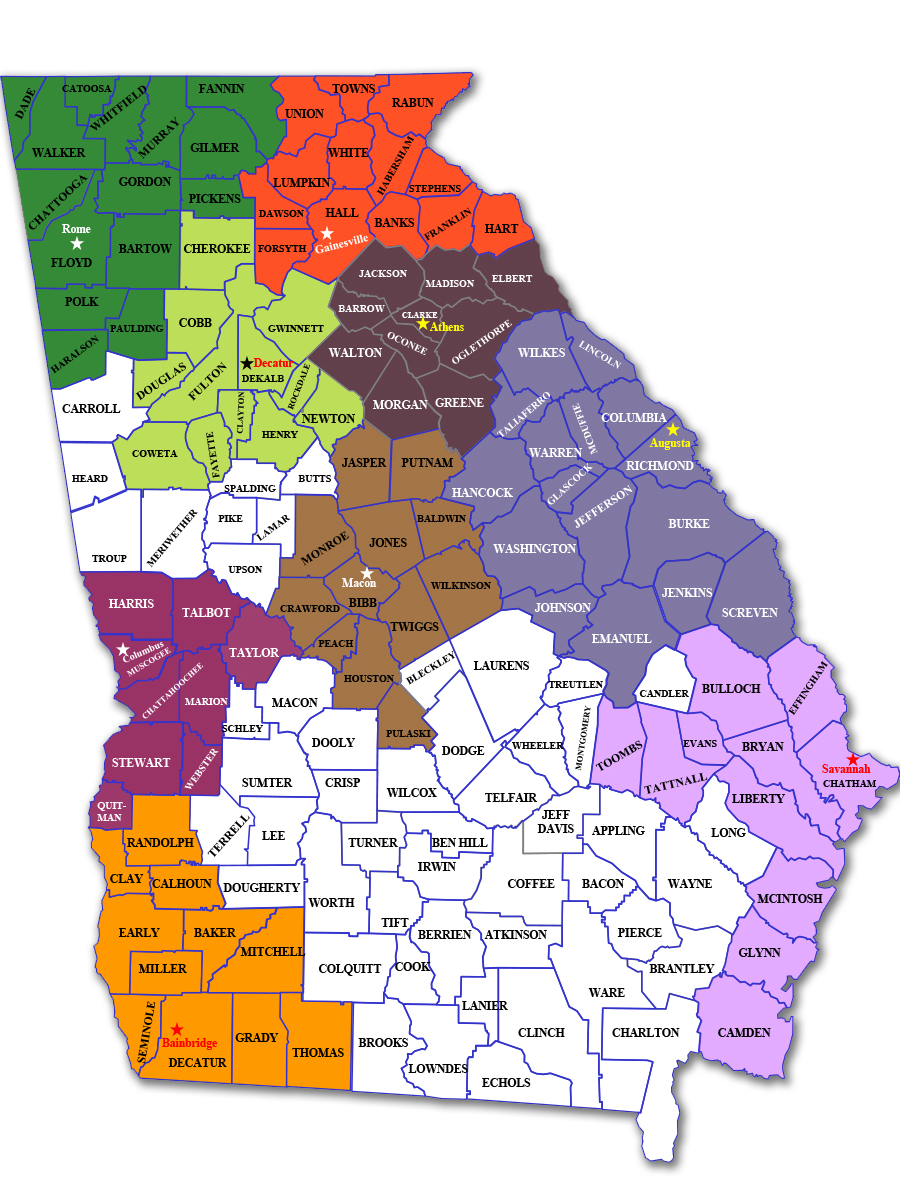 Northwest Georgia Center for Independent Living
242 North 5th Avenue
Rome, GA 30165
Voice: 706-314-0008
Toll Free: 866-888-7845
TTY: 706-802-0280
FAX: 706-314-0011
Serves the following counties in Northwest Georgia: Bartow, Catoosa, Chattooga, Dade, Fannin, Floyd, Gilmer, Gordon, Haralson, Murray, Paulding, Pickens, Polk, Walker, and Whitfield
LIFE (Living Independence for Everyone)
5105 Paulsen Street
Suite 143-B
Savannah, GA 31419
Voice: 912-920-2414
TTY: 912-920-2419
FAX: 912-920-0007
http://www.lifecil.com
Serves the following counties in Southeast Georgia: Bryan, Bulloch, Camden, Chatham, Effingham, Evans, Glynn, Liberty, McIntosh, Tattnall and Toombs
Multiple Choices
145 Barrington Drive
Athens, GA 30605
Voice: 706-850-4025
FAX/TTY: 706-850-4044
Toll Free: 877-549-1020
Toll Free FAX/TYY: 866-449-2020
www.multiplechoices.us
Serves the following counties in Northeast Georgia: Barrow, Clarke, Elbert, Greene, Jackson, Madison, Morgan, Oconee, Oglethorpe, Walton
Walton Options for Independent Living
P. O. Box 519
Augusta, GA 30903-5019
Voice: 706-724-6262
TTY: 706-261-0199
Toll Free: 877-821-8400
FAX: 706- 724-6729
http://www.waltonoptions.org
Serves the following counties in East Georgia: Burke, Columbia, Emanuel, Jefferson, Jenkins, Johnson, Lincoln, Richmond, Screven, and Washington.