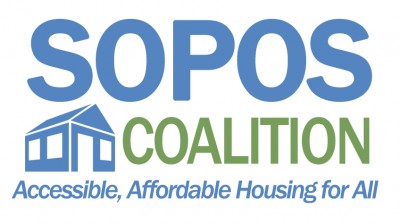 QUARTERLY NEWSLETTER
Fall 2016

Lunch & Learns on SOPOS* Agenda Conducted Around the State
A series of Lunch & Learns were held this quarter around the state to present the SOPOS agenda to local communities, sponsored by the Centers for Independent Living in North Georgia, Macon, Columbus, Rome and metro Atlanta (Tucker). The Centers invited participants from local nonprofits, affordable housing groups, Habitat for Humanity affiliates and Area Agencies on Aging to share approaches to advocating locally, statewide and at the national level for more funding and programming that makes housing more affordable, accessible and integrated into the community.
Education and Training Committee Develops Recommendations on Training of Building Professionals
In May, the SOPOS Steering Committee appointed an Education and Training Committee to explore and make recommendations for the training of building industry professionals. Members of the committee are Nadeen Green (For Rent Media Solutions), Mike Galifianakis (State ADA Coord.), Joyce Catrett (Metro Fair Housing Services), Debbie Phillips (Georgia Tech) and Shelly Simmons (The SILC of Georgia). The committee was charged with making recommendations about training that would be designed to:
increase the number of dwellings built in Georgia that meet all accessibility requirements;
ensure that residential construction and rehab projects meet all access requirements in their jurisdiction;
Prepare advocates and design professionals to better assist in the implementation of existing laws and regulations.
The committee met and recommended that SOPOS focus its limited time and resources on trying to "nip the problem in the bud" and figure out how improvements may be made in the education of academic, design, law and architecture students so that they come out better prepared. Ryan Taylor, a local architect and member of the SOPOS Coalition, does Continuing Education webinars on building codes for the American Institute of Architects (AIA) of Georgia. He pointed out that architects have to get CE credits to renew their architect certification (ARE). This is an opportunity to introduce material about residential accessibility laws and requirements. Ryan suggests that SOPOS host a webinar on the accessibility laws and requirements. He would help set it up on Go to Webinar, and we'd have the recording of it afterwards. This could then be shared with others. We are currently researching options for doing this with/through an organization that already has such a curriculum out there. If anyone is aware of one, please let Marty Collier know.
Another source of professional training is done by the Insurance Office of America. This is a professional liability broker and they host ½ day training sessions. They do not want their policy holders to get sued, so we believe they should be willing to present the information, too.
Renovation Tool Distributed at Real Estate Investor's Workshop
In June, Shelly Simmons and Marty Collier presented the SOPOS Renovation Tool to a gathering of rehabbers and investors at the Georgia Real Estate Investor's Association (GAREIA) in Norcross, GA. Investors who are rehabbing vacant properties and foreclosures were very receptive to the tool and the message to make rehabbed properties Visitable and received copies of the tool to take to the field. A number of personal testimonies about the need for increased access in housing by family members of the investor-rehabbers made it a congenial and educational interchange.
Visitability Presented to Atlanta Area Government Planners and Housing Officials
In July, Marty Collier presented a workshop on Visitability to the members of the Atlanta Regional Commission's Land Use Advisory Committee (LUAC). Area officials gained access to the Renovation Tool and learned how Visitability has been implemented in many communities around Georgia and the nation. Our partnership with ARC is on-going and being explored at various levels to identify other ways to increase the awareness of the need for basic access features to be incorporated into all housing and community planning.
On a Personal Note
Earlier this year, Pat Puckett, one of the founders and staunchest advocates of the SOPOS Coalition, was honored at a reception with many organizational co-sponsors upon her retirement as Executive Director of the Statewide Independent Living Council of Georgia. In August, Pat and her husband moved to Kentucky to be closer to family. We are grateful for her pioneering leadership and hard work for the Coalition, and already miss her presence greatly in Georgia.
*The SOPOS Coalition is a multi-disciplinary group that grew out of the 2011 publication of the SOPOS Report, "Shut Out, Priced Out and Segregated: The Need for Fair Housing for People with Disabilities." For additional information, or to get more involved, please contact the Coordinator, Marty Collier at 2mcollier@comcast.net
---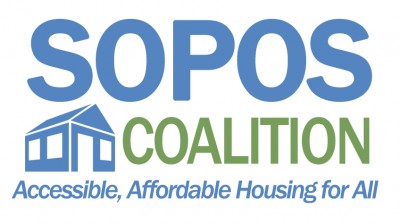 May, 2016
Members of the SOPOS Coalition have been busy this past quarter. If we have left anything out that you were involved in, please let us know about it for use in future newsletters!
Home Access Funding – Many groups have been advocating for years for the Department of Community Affairs (DCA) to reinstate funds for home modifications that enable people to stay in their own homes instead of be institutionalized.  In the 2016 legislative session, the Governor recommended -and the legislature approved- restoring $224,902 toward our request of $500,000.
Promoting Visitability with Developers – In March we held a luncheon and conducted a tour of East Lake Commons for DeKalb developer Carlos Arenas and his partner, both of Eikon Properties. They are developing a TOD (Transit Oriented Development) by the Kensington MARTA station in DeKalb County and members of SOPOS urged them to construct the single family and townhouse components to a visitable standard like East Lake Commons. They were so impressed by this model community that they wanted to find a unit there for Carlos' mother and replicate it elsewhere!
Inclusionary Ordinance in City of Atlanta – In May we joined forces with other affordable housing advocates in metro Atlanta to protect the existing goal in the City's strategic plan of housing set asides in new, multi-family developments for people at lower income levels. Shelly Simmons and Marty Collier testified on behalf of the SILC of Ga and SOPOS Coalition respectively. Because of this advocacy, the city of Atlanta's new affordable housing ordinance will require developers receiving support from Invest Atlanta to produce a set-aside of ten percent of the units affordable at sixty percent of the Area Median Income (around $690 or less per month) or fifteen percent of units at 80 percent AMI. These rents will not be as low as we urged, but they will be lower than what City officials set out to establish.
Reviewed enforcement of Visitability Ordinance in the City of Atlanta – In a community forum and via several emails and phone calls, contact was made with the new Director of the City of Atlanta Office of Housing, Valerie Fontaine Bernardo. Valerie said she was familiar with the ordinance. She had recently briefed her staff on it to ensure compliance and stated that the City continues to require that permits of new construction involving government funds must be checked for this. She did indicate, however, that because of the economic situation, few single family permits involving government funds come before them nowadays. They are funding more home rehabs, so we discussed the use of the renovation tool to ensure basic access in these if the topography does not prevent, and we have provided her office with the tool.
Housing Day at the Capitol – We joined other housing and community development groups from around the state for an event, convened by SOPOS Coalition member Georgia ACT, to educate elected representatives and stake-holders about current housing affordability issues and opportunities being considered at the legislature. Over a hundred people attended the event at Central Presbyterian Church, hosted their representatives for lunch, and went to the Capitol to talk personally with them.
National Housing Trust Fund – Later this year, Georgia will receive $3,314,612 from the national allocation for this fund. This source is statutorily set to be used for housing to benefit people making 30% or less of area median income (AMI). SOPOS participated on both national and state level conference calls to understand the criteria and uses the funds are designed to address. We participated in a joint advocacy effort to establish program priorities that ensure the resulting housing will have basic access features and be integrated into the community. This will need to be monitored in the next stage of funding allocation and implementation.
Presentations to GICH teams (Georgia Initiative for Community Housing) – In February we traveled to Dublin to make a presentation on the visitability concept in housing to participants of the GICH retreat. The Georgia Initiative for Community Housing helps communities improve their quality of life and economic vitality through the development of locally based housing and revitalization strategies. It is an initiative of the Georgia Department of Community Affairs (DCA), the Georgia Municipal Association (GMA), the University of Georgia (UGA) Housing and Demographics, Research Center, and the UGA Office of the Vice President of Public Service and Outreach. The program has embraced visitability and we hope to present the concept to each new team of communities that go through the program. In Dublin, we presented with representatives from Disability Connections (located in Macon). As a result of that presentation, we were also invited to present to the GICH team in Douglasville.
Co-Sponsor for Fair Housing Training conducted by State ADA Coordinator's Office – SOPOS Coalition was a co-sponsor of this training on the Fair Housing Law, which covered the treatment of people with disabilities as well as construction requirements for accessibility included in the Americans with Disabilities Act (ADA) and the Fair Housing Act. The training was well done and well attended, sparking lively discussions and questions at times. Discussions are underway about the possibility of replicating this in other parts of the state.
SOPOS represented at annual policy forum of National Low Income Housing Coalition (NLIHC) in DC –This included participating in a statewide coalitions gathering, obtaining valuable information about how the Affirmatively Furthering Fair Housing mandate of the Obama Administration will be carried out, and visits to the Hill to impress upon elected representatives the urgency of expanding funds to make affordable, accessible and integrated housing more available.
Meeting held with various members of SOPOS Coalition – This involved discussions about how to coordinate efforts to support the Coalition's objectives, such as with representatives of Metro Fair Housing Services, the Atlanta Regional Commission, Concrete Change, the Board of the SILC of GA, Georgia ACT, different Centers for Independent Living, and Georgia Tech.
Finalized SOPOS Coalition brochure – Please let us know if you want copies to help recruit and educate others.
Researched and documented examples of visitable townhouses – We have collected photos we are using for educational presentations. These are being shared with developers, planners and others to encourage more barrier-free construction.
The SOPOS Coalition is a multi-disciplinary group that grew out of the publication of the SOPOS Report, "Shut Out, Priced Out and Segregated: The Need for Fair Housing for People with Disabilities."