Get involved to make the voices of people with disabilities heard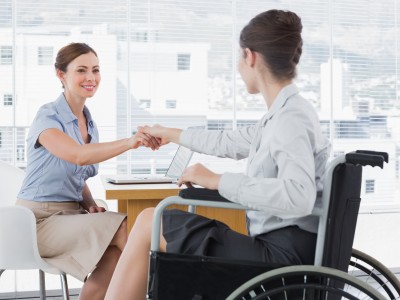 Disability, by itself, is not a sentence to a life of isolation or institutional living. People with disabilities can and do live productive lives as citizens, parents, employees, students, volunteers, and community members. Yet, whether it's affordable, accessible housing, accessible transportation (or any transportation at all), or in-home assistance with self-care or other daily activities, when people with disabilities go looking for supports and services that would allow them to live independently,  they're often surprised to find out there's not a lot of help available.
For many people, societal barriers continue to turn a disability into an inability to access and participate in aspects of community life that others take for granted.  While progress has been made, there is still a long way to go before disability rights = human rights in the minds of legislators, policy makers, and the general public.
It's important to get involved to make the voices of people with disabilities heard!  What can you do?
Vote
If we want policies that support people with disabilities, people with disabilities need to show up.
Sounds obvious, right? Yet, an estimated 800,000 eligible adults in Georgia are not registered to vote.  And in the 2010 general election, fewer than half of those registered actually cast their vote.  People with disabilities cannot afford to be complacent.
If you are not registered to vote you can visit the Georgia Secretary of State's website to find out how.
Or contact your local CIL if you need assistance registering.
Contact Your Legislators
Communicating your views to your representatives doesn't end on election day.
Legislators need to hear from voters to know what they care about.  Click on this useful tool to help you find contact information for all of your Congressional and local representatives.
Learn How to Advocate
So you're fired up and ready to work, but don't know how to begin.
Knowing how, when, where, and to whom to communicate your views is at least as important as having a strong opinion. There are a number of groups you can get involved in to join forces with and learn from experienced advocates.  Many of the Centers for Independent Living host advocacy group meetings and some even offer advocacy training!
Participate in the Independent Living Network
Attend SILC's quarterly public  meetings or connect with your local CIL
Subscribe to our mailing list
Attend SILC Meetings
Join a SILC Committee to work on a barrier area that interests you!
Find your Center for Independent Living
Be Educated About the Issues
Some other resources to help you stay informed about issues affecting Georgians with disabilities.
Here are some other resources we encourage you to explore. These organizations don't specifically represent a disability viewpoint but they provide important information and analysis on healthcare and budget issues that impact all Georgians.
Donate
Contribute via Every Action: